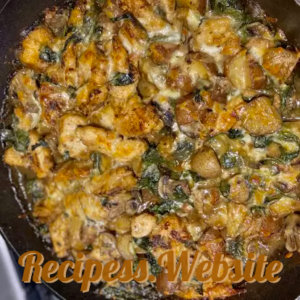 SMOTHERED CHICKEN WITH CREAMED BACON, SPINACH AND MUSHROOMS SAUCE
If you're looking for something to soak up some of that wonderful sauce, this skillet chicken is for you! When the spinach combination is cooking, you may add some Tabasco sauce or other spicy sauce if you'd want to add a touch of spice.
You may use whatever kind of mushrooms you like, and you can change up the greens to suit your taste. It would also be tasty with chopped green beans or baby kale. As an alternative to the creamy mozzarella, you may use a few tablespoons of Parmesan, Feta, or another more delicious cheese.
There are plenty of veggies already in this meal, so you don't need anything more to soak up the delicious sauce. You may serve it with pasta, potatoes, or other grains or oats, as well as a salad. And the best part for me is It reheats well on a medium-low heat setting as well.
INGREDIENTS:
A large chopped onion.
Mushrooms, I used 8-oz sliced.
4 thick slices.Of bacon.
Kosher salt.
Freshly ground black pepper.
1 T spoon.Of olive oil
Boneless and skinless chicken breast, I used 1 pound.
Roughly chopped fresh spinach, you'll nee4 cups.
1 Cup.Of heavy cream.
1/2 Cup.Of chicken broth.
1 Cup.Of shredded mozzarella.
METHOD OF WORK:
Step 1 – Cook the bacon in a big heavy pan, over medium-high heat for approximately 4 minutes on each side.
Step 2 – Transfer to a plate lined with paper towels and drain all but 2 teaspoons of bacon grease.
Step 3 – Toss in mushrooms and onions and cook for another 7 minutes on medium-high heat. Put them on a plate and sprinkle with salt and pepper.
Step 4 – Sauté the chicken breasts for approximately 8 minutes on each side until they're well browned but not quite cooked through in the pan.
Step 5 – Remove them from the pan and place them on a serving plate next to the mushrooms and onions.
Step 6 – Add the spinach to the pan and turn the heat back up. Add the cream and broth and bring to a boil after 2 minutes of sautéing the spinach. Add the mozzarella and continue to stir until it is melted, seasoning with salt and pepper as needed.
Step 7 – While the spinach is wilting, cut up the bacon that has already been sautéed. Add the bacon, mushrooms, and onions to the mixture and mix well.
Step 8 – Cook the browned chicken breast in the boiling sauce for a further 5 minutes on medium heat, or until it is thoroughly cooked.