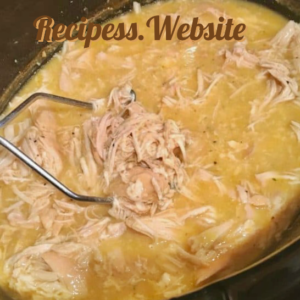 SHREDDED CHICKEN GRAVY ON MASHED POTATOES
This Chicken and Gravy Recipe is the epitome of home cooking at its finest. Making Chicken & Gravy is surprisingly simple, and you probably already have all of the necessary materials stashed away in your kitchen pantry. If you serve this chicken gravy on a big plate of warm mashed potatoes, you will be in heaven. 
I like making this meal for my husband because it's just meat and potatoes, which is what my man likes to eat. The gravy has an incredible depth of flavor and is packed with delicate pieces of chicken. This is the kind of supper that, at the end of a long day, makes you feel as if someone is putting a warm blanket over your stomach. You are going to be astounded by how fast you can put together this supper, and your loved ones are going to go crazy for it. 
Do not be scared by this recipe in the least if you have never made homemade chicken gravy using chicken broth before. This recipe truly couldn't be much simpler. Let's get down to business and learn how to make it from scratch, shall we?
INGREDIENTS: 
Cooked shredded chicken; I used 3 cups. 

A softened stick.Of butter. 

2 sprigs.Of thyme. 

1/2 Cup.Of all-purpose flour. 

4 Cups.Of chicken broth. 

1/2 t spoon.Of garlic powder. 

1 t spoon.Of Worcestershire sauce; it's optional.  

Black pepper and salt, to taste. 
TO SUCCESSFULLY PREPARE THIS RECIPE FOR SHREDDED CHICKEN GRAVY, PLEASE FOLLOW THE INSTRUCTIONS BELOW:
• Step 1: In a 12-inch pan, bring the butter to a simmer over medium-high heat. Reduce the temperature to medium and then add the thyme sprigs to the pan. 
• Step 2: After that, you will need to continue to heat and stir for approximately a minute till the aroma is released. Take the thyme sprigs out and dispose of them. 
• Step 3: Then after, toss in the flour with a whisk and continue doing so until it is completely blended with the butter. 
• Step 4: Pour in the chicken broth and whisk until a smooth consistency is reached. Bring to a low simmer, then continue cooking while stirring for a while, until the gravy has thickened. 
• Step 5: Add some salt, pepper, garlic powder, and Worcestershire sauce to taste. 
• Step 6: To finish, stir in the shredded chicken, and serve the dish immediately over mashed potatoes or rice that has been previously prepared.