Philly Cheese Steak Cheesy Bread with just a few ingredients is the taste of Philly for a crowd!
Philly Cheese Steak Cheesy Bread sounds like a hard recipe but it's actually ready to go in the oven in less than 20 minutes and is a perfect recipe for a crowd.
Hey everyone it's Sabrina again from Dinner, then Dessert and this month I'm bringing one of my favorite flavors to Alyssa's blog… Philly Cheese Steaks!
One of the most popular recipes on my blog is for a Philly Cheese Steak Grilled Cheese, and there are at least four different recipes on the blog for cheese steaks, but this one is my favorite version for a crowd.
In addition to being an easy and quick dish you can serve a large number of people. In addition that you don't even need a large amount of ingredients so this dish is actually also inexpensive to make.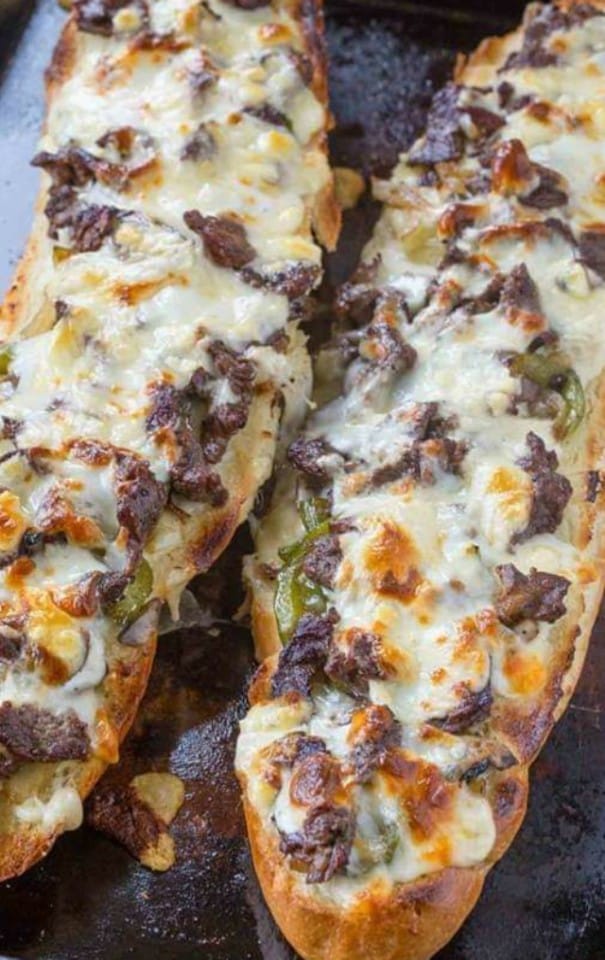 PHILLY CHEESESTEAK CHEESY BREAD
Philly Cheesesteak Cheesy Bread is cheesy and crunchy and full
of delicious cheese steak flavors including ribeye steak, green bell peppers, onions and mushrooms.
INGREDIENTS
8 ounces Ribeye Steak thinly sliced
1/2 teaspoon Kosher salt divided
1/4 coarse ground black pepper divided
1 tablespoon canola oil
1 tablespoon Worcestershire sauce
2 tablespoons butter
1 green bell pepper sliced
1 yellow onion sliced
4 ounces mushrooms sliced
1 loaf French bread cut in half lengthwise
1/3 cup mayonnaise
8 ounces Provolone cheese sliced
INSTRUCTIONS
Preheat the oven to 375 degrees. Season the steak with half of the salt and pepper and all the canola oil. Heat a cast iron skillet on high heat and cook the steak for 2 minutes without stirring or flipping. Add the Worcestershire sauce and stir.
Remove from the pan and add in the butter, green bell peppers, onions, mushrooms and the rest of the salt and pepper. Cook for 3-4 minutes or until slightly browned.
Spread mayonnaise over both halves of the bread.
Cover with half of the provolone cheese, then add the steak and vegetables along with the rest of the cheese on top.
Cook for 15 minutes on the middle rack until browned.