PEANUT BUTTER M&M COOKIES!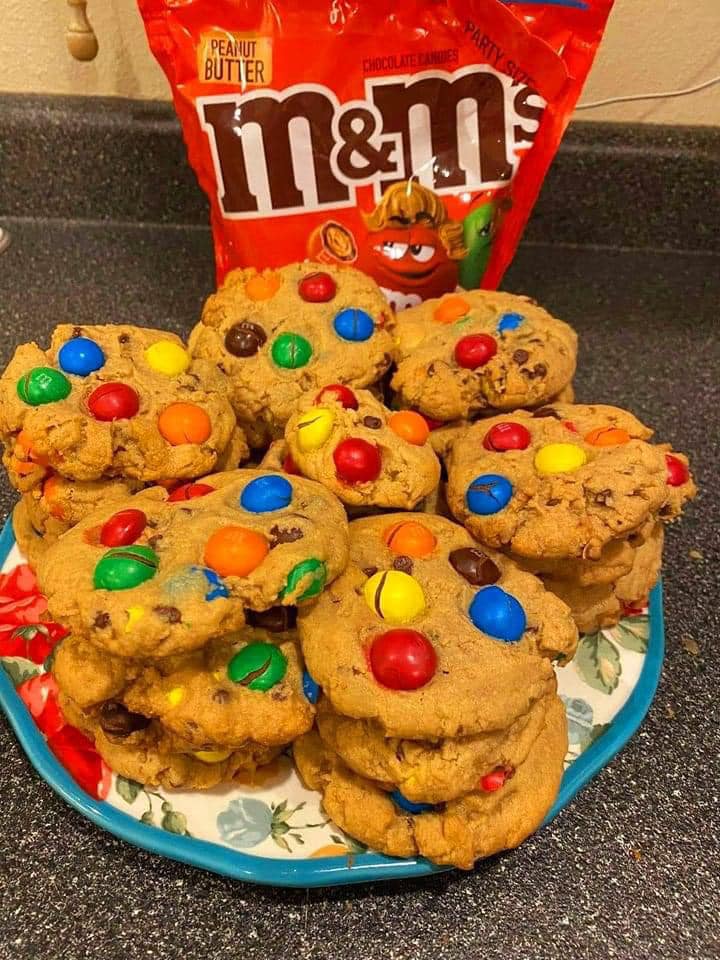 THE INGREDIENTS LIST:
1/2 Cup.Of unsalted butter, softened.
1/2 Cup.Of granulated sugar.
1/2 Cup.Of packed brown sugar.
1/2 Cup.Of creamy peanut butter.
1 large beaten egg.
1 Tsp.Of vanilla extract.
11/4 Cups.Of all-purpose flour.
1/2 Tsp.Of baking soda.
1/4 Tsp.Of salt.
1 Cup.Of M&M candies.
PREPARATION:
1st Step:
Turn the oven temperature up to 350 degrees Fahrenheit (175 degrees Celsius). Prepare a baking sheet by lining it with parchment paper or greasing it gently.
2nd Step:
In a large mixing bowl, cream together the softened butter, granulated sugar, and brown sugar until light and fluffy.
3rd Step:
To the melted butter and sugar, stir in the smooth peanut butter. Add the egg and vanilla essence and beat until combined.
4th Step:
In a separate bowl, whisk together the all-purpose flour, baking soda, and salt. Combine the dry and wet components gradually, mixing just until a dough forms. It's important not to over-stir.
5th Step:
Toss in the M&Ms, being careful not to crush them, and save aside a little amount to use as a garnish by pressing into the cookies' surfaces. Drop dough by tablespoonfuls onto the prepared baking sheet, leaving approximately 2 inches between each ball. Use the back of a fork to gently flatten each ball of dough.
6th Step:
Use the reserved M&M candies to decorate the tops of the cookies. Put into the oven at the predetermined temperature and bake for 10 to 12 minutes. Even though the cookies seem underdone in the middle, they will firm up as they cool.
7th Step:
After 5 minutes of cooling on the baking sheet, remove it from the oven and let the cookies rest entirely on a wire rack.
8th Step:
Once the Peanut Butter M&M Cookies have cooled, place them in an airtight container to keep them from becoming stale. If they survive that long, you may enjoy them for days.
TIPS:
Use the smaller M&M candies for a more intense chocolate flavor.
If you want your cookies to have more of a bite to them, try using crunchy peanut butter instead than smooth.
Add an extra tablespoon or two of peanut butter if you want a stronger peanut butter taste.
You can't go wrong with these cookies as a present! Display them in a pretty container or give them out in cellophane wrappers with bows.