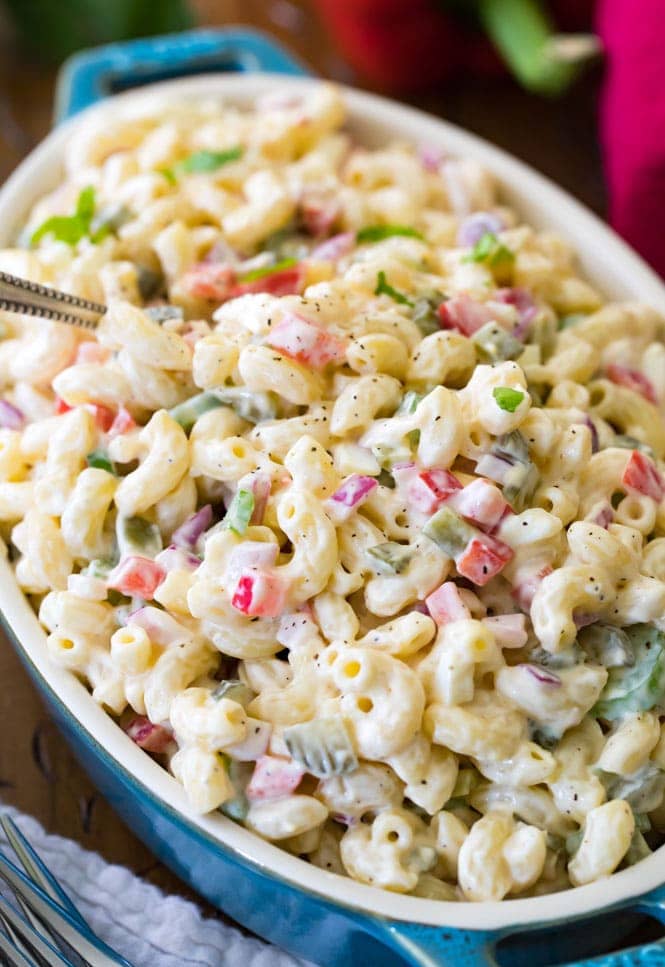 This is a classic, tasty, and oh-so easy macaroni salad recipe! Made with classic ingredient staples including celery, red pepper, and onion and dressed up in a simple creamy mayo-based dressing, this is guaranteed to be a hit at every cookout and potluck this year!
Be sure to check out the easy video that shows step-by-step how to make this recipe!
We have had a non-stop week of rain here.
Zach's first two softball games of the season have been rained out and I'm beginning to forget what the sun looks like (I'm only slightly dramatic I promise ). I am completely over it. I'm ready for summertime sunshine and cookout weather, and with Memorial Day weekend just around the corner I'm taking the opportunity to prepare and share my all-time favorite macaroni salad recipe, even if it is grey and gloomy outside.
I've shared a few of my summertime salads, including my favorite broccoli salad and ramen noodle salad, but this one may just be my favorite.
Macaroni salad is a party/potluck/cookout staple, no get-together is complete without a giant chilled bowl, and today I'll show you how I make my favorite recipe and the perfectly creamy, slightly sweet dressing that goes along with it.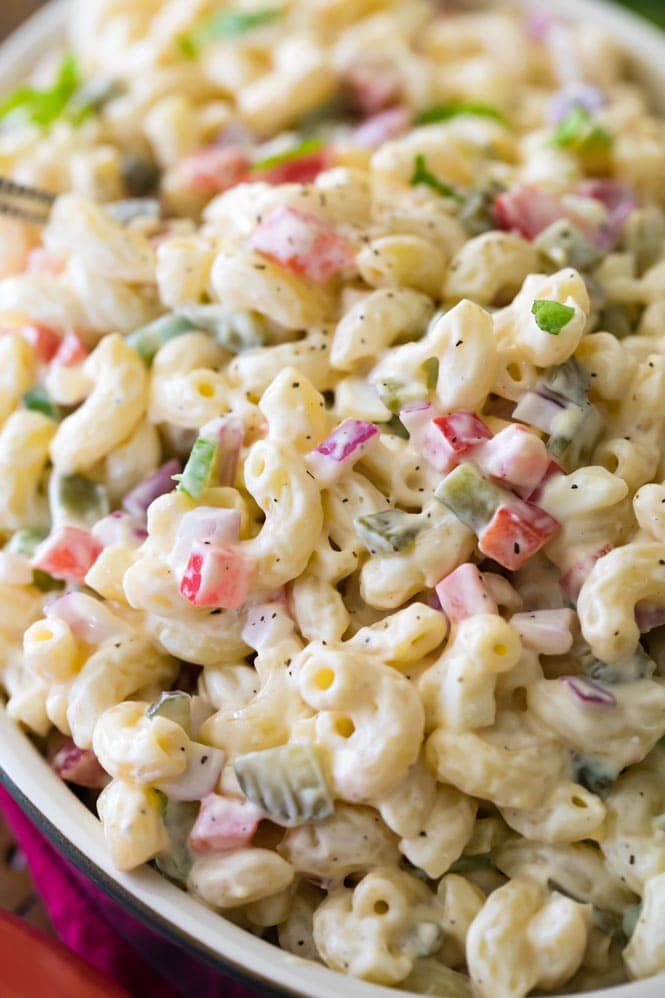 Ingredients :
1 lb salad macaroni
4 hard-boiled eggs (chopped)
1 small onion, finely diced
3 celery ribs, diced small
1 small sweet pepper, seeded and diced small (red or orange)
Dressing
2 cups light mayonnaise (do not use Miracle Whip)
1/2 cup sugar
1/8 cup yellow mustard
2 tablespoons dill pickle relish
1 tablespoon white vinegar or 1 tablespoon apple cider vinegar
3/4 teaspoon celery seed
1/4 teaspoon salt
paprika (to garnish)
Directions :
Cook the macaroni according to directions, drain well.
While pasta is cooking mix up all the dressing ingredients till well blended and set aside.
Chop up all the veggies.
When macaroni has cooled and drained well mix in the dressing (add all of it if you like very creamy salad.if you don't like a lot of dressing leave out about 1/2-3/4 c of the dressing. Remember that as it sets it will soak up some of the dressing.
Refrigerate for at least one hour, the longer you let it set the better the flavor.